Table of Contents
Hidden Caches, not to be confused with the 1:80,000 Rare Find, are a scavenger hunt style hidden object within Trophy Fishing Online 2 added on August 18th, 2015.
A "Message in a Bottle" and a "Lure Cache" have a chance of being hidden every minute at a rate of 1:1440(this comes out to about ONCE per day). They will ONLY generate if there is NOT a Lure Cache within the game.
Finding The Goods
By simply hooking a fish at either the Bottle OR the Lure Cache will trigger the activation of the bottle or lure generation.
Finding the Bottle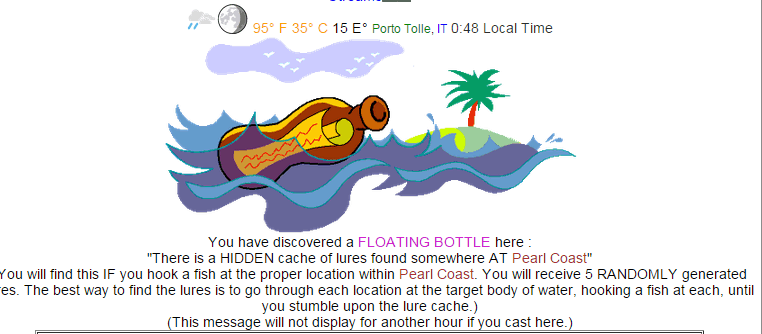 The above shows how a bottle looks to a player. The bottle displays the BODY OF WATER the lure cache is located on HOWEVER you will still need to hook a fish at each location of the target location until you reveal the lure cache. It IS POSSIBLE that another player may get the cache before you due to reading the HINT in the bottle OR just pure luck of casting at the target location.
Finding the message is NOT required to find the lure but it certainly makes it much easier. It is possible the message will direct you to a location you CANNOT access due to level restriction. At that point, it is up to you to do with the information you have received.
Finding the Lures

The above shows the resulting FORUM POST created when a message cache is found. It is VITAL to pay attention to forum posts if you are pursuing a known cache location. If a player beats you to the cache OR just gets lucky and you lose the cache, it is important to notice the FORUM POST before using a launch to look further for the lure cache.
The lures generated are 5 at REGULAR generation odds. It is VERY POSSIBLE you could receive 5 junk lures(COMMON) but, on the other hand, you might get something very useful. If the lure cache happens to be somewhere you were going to go, it is a nice bonus to something you might have already used a launch on.
To find the lures, as stated above, you simply need to HOOK a fish at the target location. You will need to HOOK a fish at each location UNTIL you find the one that pops up the lure cache notification.
As of 2/8/2016, Finding a lure cache also results in an opportunity to the Cache Game Jackpot.