Introduction
The Lure Effectiveness system, implemented 11/19/2015, is an effort to help make the game more transparent while not giving away too much. When the option is enabled(may be enabled or disabled on the charter screen as shown below), you will be displayed lure characterteristics that the fish LIKES on the lure you are USING. By finding lures that combine MULTIPLE traits that your fish likes, you can discover optimal lures.

As shown below, the Lure Effectiveness shows that the Rock Bass likes LIVE BAIT lures as I am using a LIVE BAIT lure. The best lures are NOT ALWAYS the ones with the best characteristics as RARITY also greatly affects the lure effectiveness but it is a useful general guideline.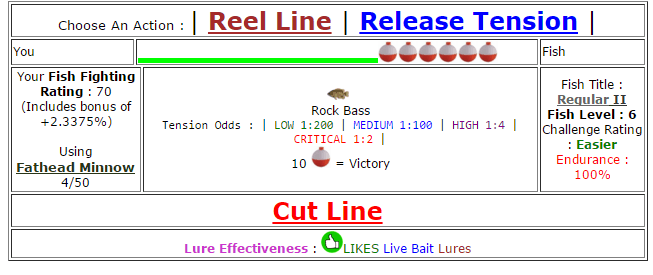 Things to Rememeber
In the example above, ANY LIVE BAIT lure may not work. For example, Rock Bass can't eat TOO BIG of lures so a GIGANTIC LIVE BAIT will still not result in a hook. Experiment and try to find the best lure that combines TRAITS that a fish likes WITHOUT it biting.