Introduction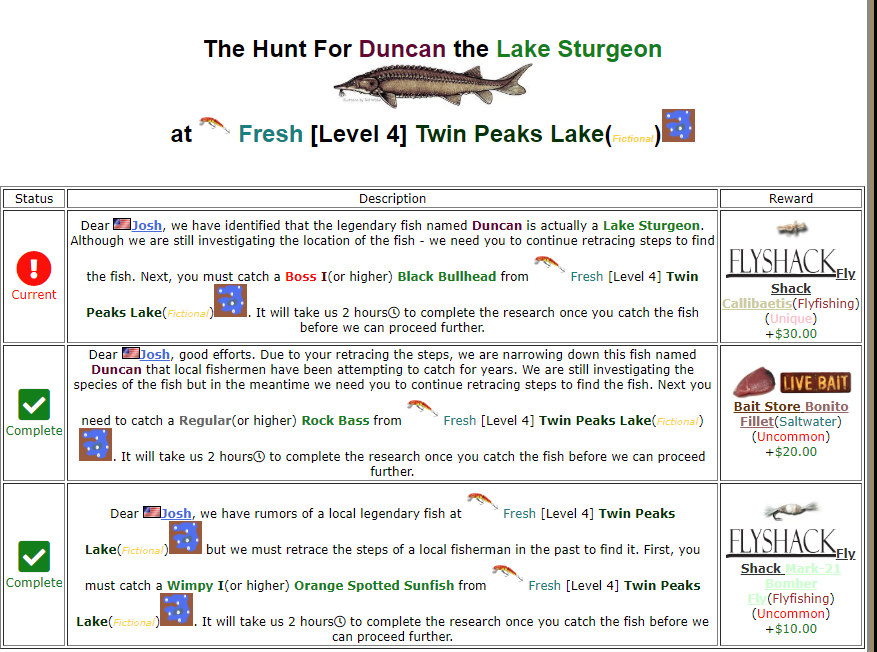 Legend Quests were a feature added June 18th, 2020. It is considered a MAJOR feature update for Trophy Fishing Online 2.
From the Original Forum Post Pursue Legendary Fish through -EVERY- single location in the game across a storyline. Each story contains 8 separate goals of varying complexity and unique prizes/rewards.
When you get halfway through a chain - you can unlock a new chain at a location of YOUR choice. Everyone has the SAME chain so you can share info/tips with other players if you choose when applicable.
BE AWARE - Difficulty is scaled so generally the "end goal" is based upon the biggest fish on the body of water so yes, you'll probably be expected to hook a legendary Tarpon if you choose that location. You DO get paid more from bigger fish for the prizes but it might be quite difficult to finish the entire chain(its why I allow a new chain to be opened halfway through).
You can view your current quests anytime in the Home menu or from the link next to the Daily Goals. There is also a navigation link while fishing if you have a legend quest available for that location.
Again, this is a HUGE update. Every single location has quite a detailed quest/reward system so have fun and get fishing!
Frequently Asked Questions
I completed my quest - when do I get my next quest?
You will have a clock appear next to your quest when viewing it if it was completed. Most quests have a 2 hour countdown before the next one is made available with the exception being the "middle" quest which has a 24 hour timer.